Virgil Village
Just South of Los Feliz and West of Silver Lake you'll find the sweet little pocket of Virgil Village. Home to delicious eateries like Sqirl, Melody and Jewel to name a few. It's an exciting area to be apart of with new shops popping up and creativity being infused into the already cool culture. Perfectly positioned and minutes to Sunset Junction, Griffith Park and DTLA.
Courage Bagels – coming soon!
Silver Lake Farmers Market favorite and Broome Street bagel pop-up Courage Bagels made a significant move into a future brick and mortar space. It's kitty corner to Jessica Koslow's Sqirl in the beloved former Virgil Village panadería, Super Pan. The owners signed a lease in June and anticipate a late-2019 opening.
Owners Arielle Skye and Chris Moss will rework the 820 square feet to produce their popular Montreal-style, wood-fired bagels and bialys in bulk. It's a unique process for a unique bagel, which sports a crusty, chewy crust.
The menu will be similar to Courage's pop-ups, with toppings like hand-sliced smoked salmon, wild American caviar, or fresh garden options depending on availability. It'll also sell teas and coffees.
Melody
Eleven-month-old Virgil Village restaurant Melody is switching gears, dropping its focus on food in favor of wine and wine only. Melody is now operating as a standalone wine bar only, with the kitchen being used mostly for pop-ups and a very scaled-back bar menu, perfect for casual patio drinking seven nights a week.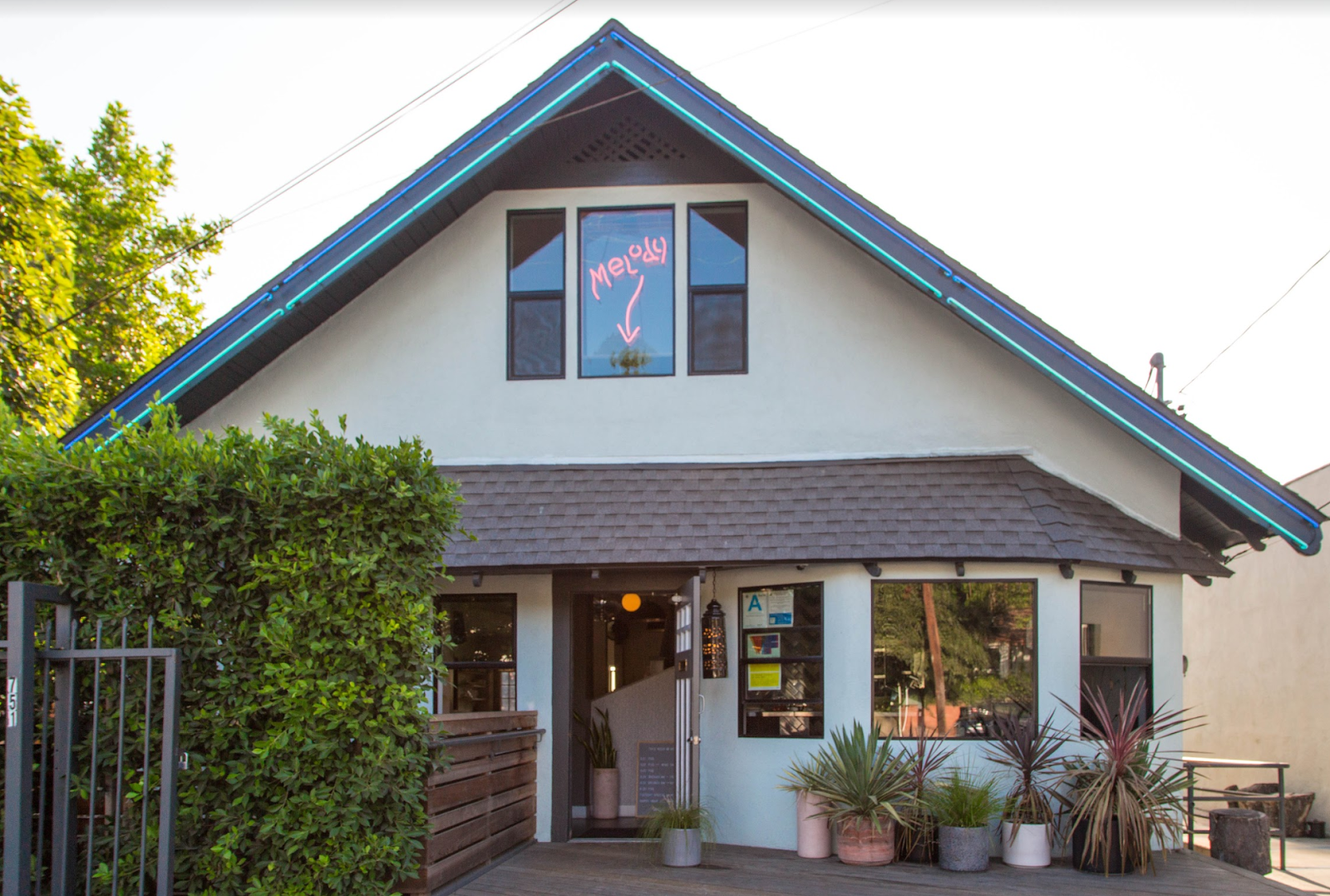 Sqirl
What started as a preserves company is now one of LA's most coveted eateries: Sqirl, a small nook of a restaurant that serves breakfast and lunch made with farm-fresh ingredients. Jessica Koslow is still churning out jams, but this time you can get it spread on thick cuts of brioche toast with Sqirl's house ricotta. If you're not ordering toast here, though, you're probably ordering one of the rice bowls, filled to the brim with the best ingredients LA has to offer. The only downside? Everyone loves it here, and Sqirl has a monstrous line to show for it at all hours of the day.
Jewel
Jewel is now officially serving the neighborhood, offering a mostly-vegan menu of dishes designed to play to the changing Virgil Village community. Jewel stakes its claim as a place for health-conscious types to eschew meat and dairy if they like, while their non-vegan friends chow down on added eggs to almost any dish on the menu. Expect porridge, oats, toasts, and mains like breakfast burritos in the morning, followed by salads, bowls, meatless burgers, and a pizza in the afternoon.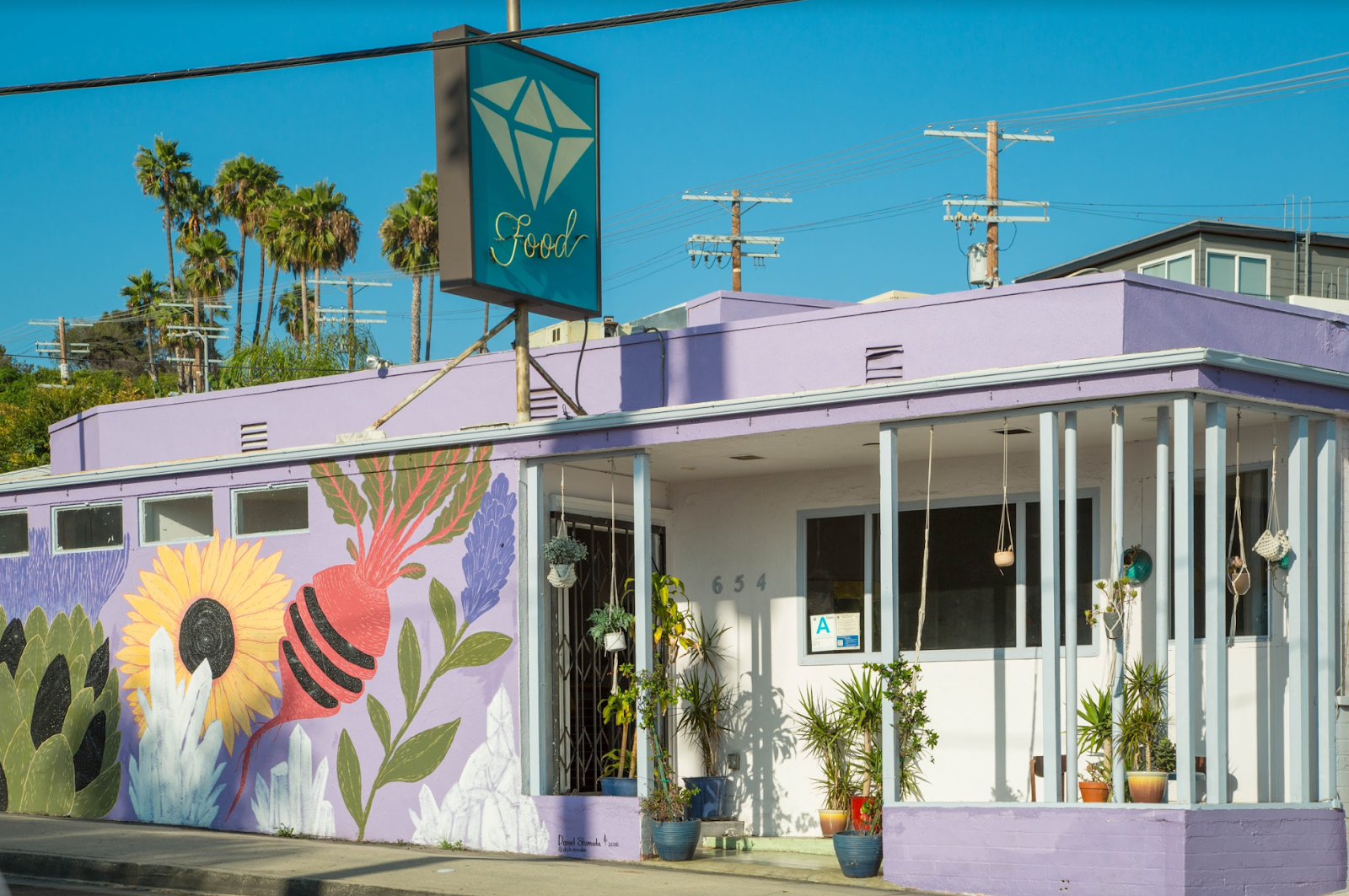 Cafecito Organico
Cafecito Organico is one of a kind as they work with small growers and family farms that produce high quality coffees sustainably. They also pay a just price to ensure that the coffee producers can sustain a livelihood and the workers are treated and paid fairly.
Their coffee is roasted with the utmost care to ensure that the flavor nuances are developed to highlight the particular regions where the cherries are grown. When you, as a customer, whether long-standing or brand new, enter one of their unique locations, you will be hosted as a guest. You will be greeted and spoken to with respect, your order discussed for your maximum enjoyment and the coffee of your choice produced and presented with professionalism.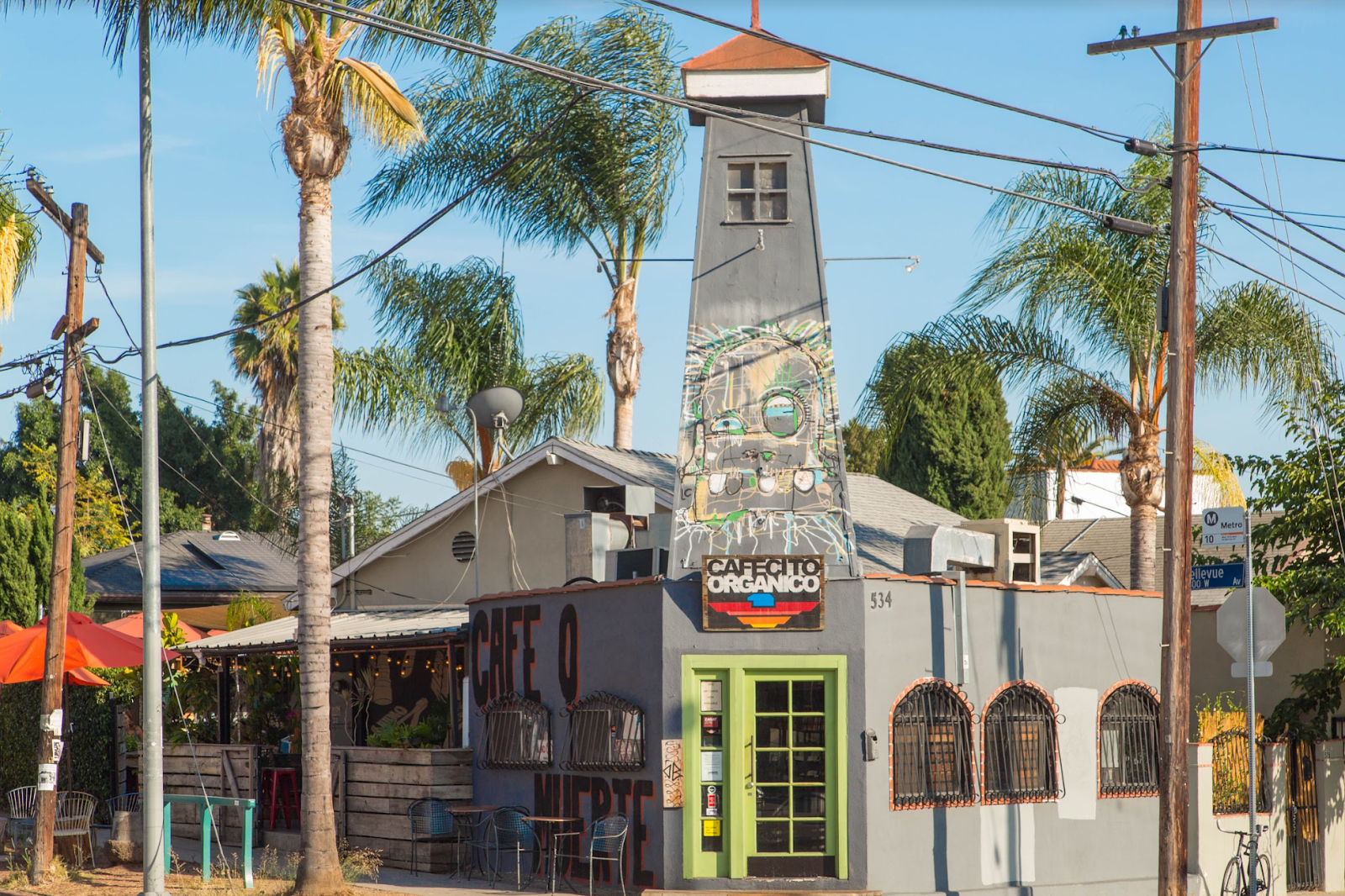 Paper 8
Stemming from his interests and background, PAPER 8 is dedicated to bringing you one of a kind art work and apparel from artist Matthew Warren. Born on the Island of Guernsey off the coast of France, Warren studied undergraduate Fine Art at The University of the West of England in Bristol before undertaking his Masters at OTIS College of Art and Design in Los Angeles, CA.
His artistic perspective on America is unique, enhanced through living in the environment of his production, and his practice explores methods of representation stemming from American popular culture.
Through drawing, he recycles Hollywood's iconography in the form of movie posters, using 3B pencil, he reflects the essence of chosen films selected for their relevance in Pop Culture. The design and composition of the posters are influenced by the films characters and themes, and draw inspiration from the movies color palette and imagery. Each poster dissects the films narrative and chooses a singular image, which frames the film in a fresh way depicting its spirit and cult status.
Barkeeper
Cozy shop specializing in high-quality spirits & bitters, vintage glasses & other bar supplies.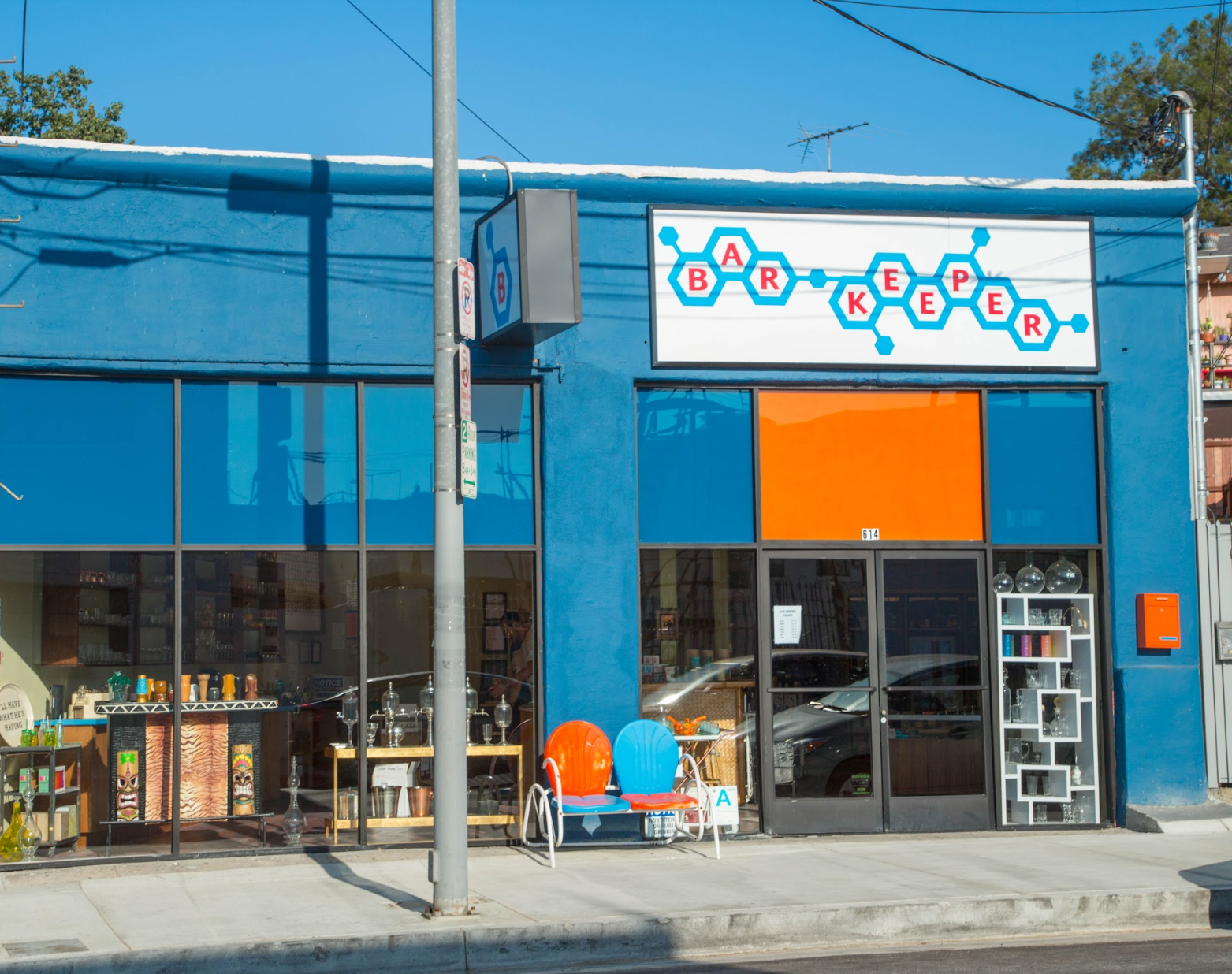 Recollection
Recollection Vintage is small, but it is mighty; the tiny vintage shop on Hoover conducts a lot of business on its Instagram page, posting photos of its goods and encouraging visitors to "DM to purchase." The try-it-on-first rule goes double for vintage shoes, which Recollection specializes in, boasting everything from 1950s pumps to clunky '90s sandals. Recollection's price point is refreshingly normal, especially considering its Silver Lake-adjacent location; you'll find the occasional $200 leather jacket, but most of the shop's pieces are in good condition and under $50. If you prefer to shop al fresco, Recollection's owners wheel racks full of their clothes to the flea market in Sunset Triangle Plaza every Saturday.
Makers Mess
Makers Mess is a creative art studio located in Silver Lake, CA, that offers art and design classes for kids and adults. They support artists by cultivating opportunities for them to share their knowledge with individuals, groups and companies. They not only deliver workshops, but also host events, parties, kids art camps and anything that needs some added creativity. Their events are known for their elevated aesthetic display, unique and engaging crafts and professional and friendly staff.
Makers Mess was born from founder Brandy Lewis' vision of creating experiences for people to practice their creativity. We love curating creative experiences for people to connect with others (or themselves!)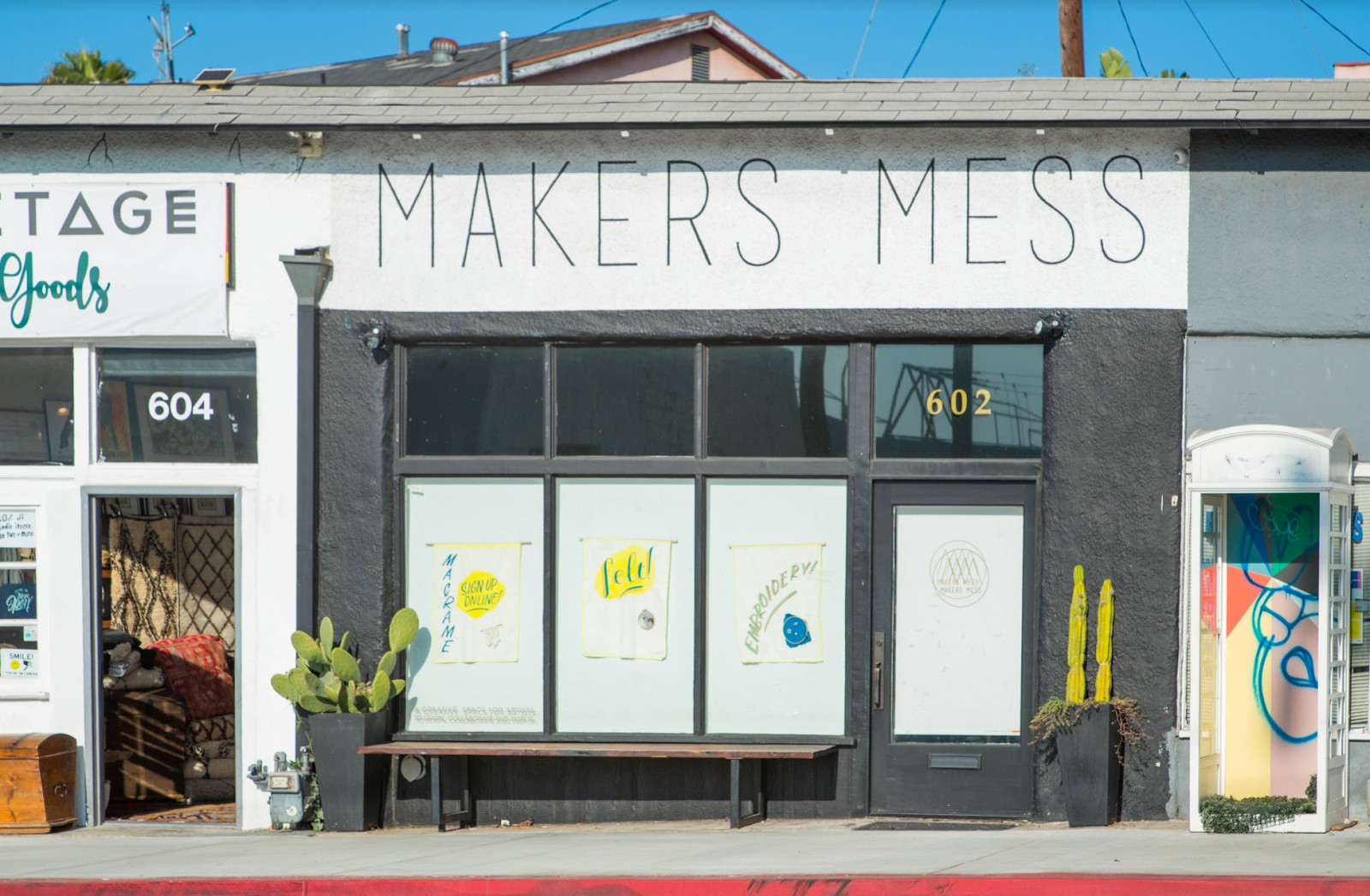 ROAM
ROAM, established by husband and wife team Chad Dennis and Jennifer Perry – two of LA's most sought after and respected yoga teachers – aspires to bring 35 years of combined yoga and movement experience into a small and intimate community settling.
Nestled in the heart and soul of the up-and-coming Virgil Village pocket of Silverlake, we are a yoga and community space for all people, of all faiths, of all colors, of all shapes, of all sizes, creeds and orientations. To both honor and celebrate this uniqueness, ROAM teachers come from a broad spectrum of lineages and modalities, offering something for everybody and every body. They offer a variety of alignment based Vinyasa classes as well as Restorative, Yin, Kirtan and Meditation. All ROAM classes, basics to advanced, pride themselves in marrying art with science – exquisite sequencing with a deep knowledge of the human body. Allow the soundtrack of your breath to be your guide or practice to beautifully and purposely curated music. Be prepared to be inspired, uplifted and transformed. Get lost. Get found.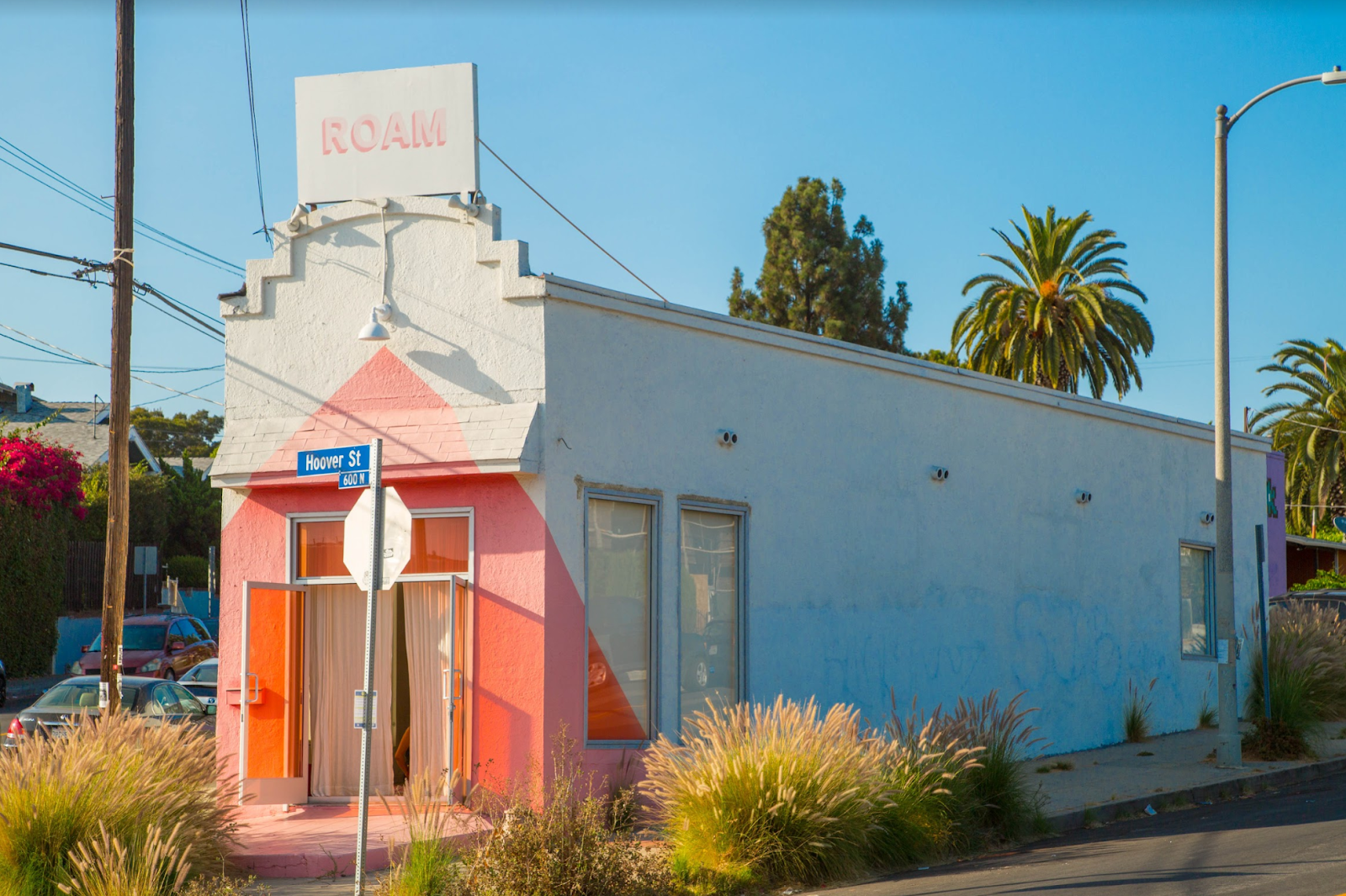 Vinovore
Coly Den Haan has been working in the wine industry for ten years, and when she decided to open her own wine shop she realized there was a simple way to stand out in the male- dominated field—focus on wines made by women. She said, "From what I can tell, there isn't another wine shop out there that focuses on female winemakers.
This is an exciting space for me, and with the political climate, it's an exciting time to make a statement like this." She partnered with developer Dean Harada to create Vinovore, which offers hundreds of unique, handpicked bottles from all over the world. Not sure which wine is right for you? Vinovore uses an animal-themed wine chart and color-coded bottles to make it easy for customers to find particular styles of wine. For example, "Pink Pony" wines are frisky like a fruity white or a juicy rosé, while "Bronze T-Rex" wine are audacious and opulent, like a bold red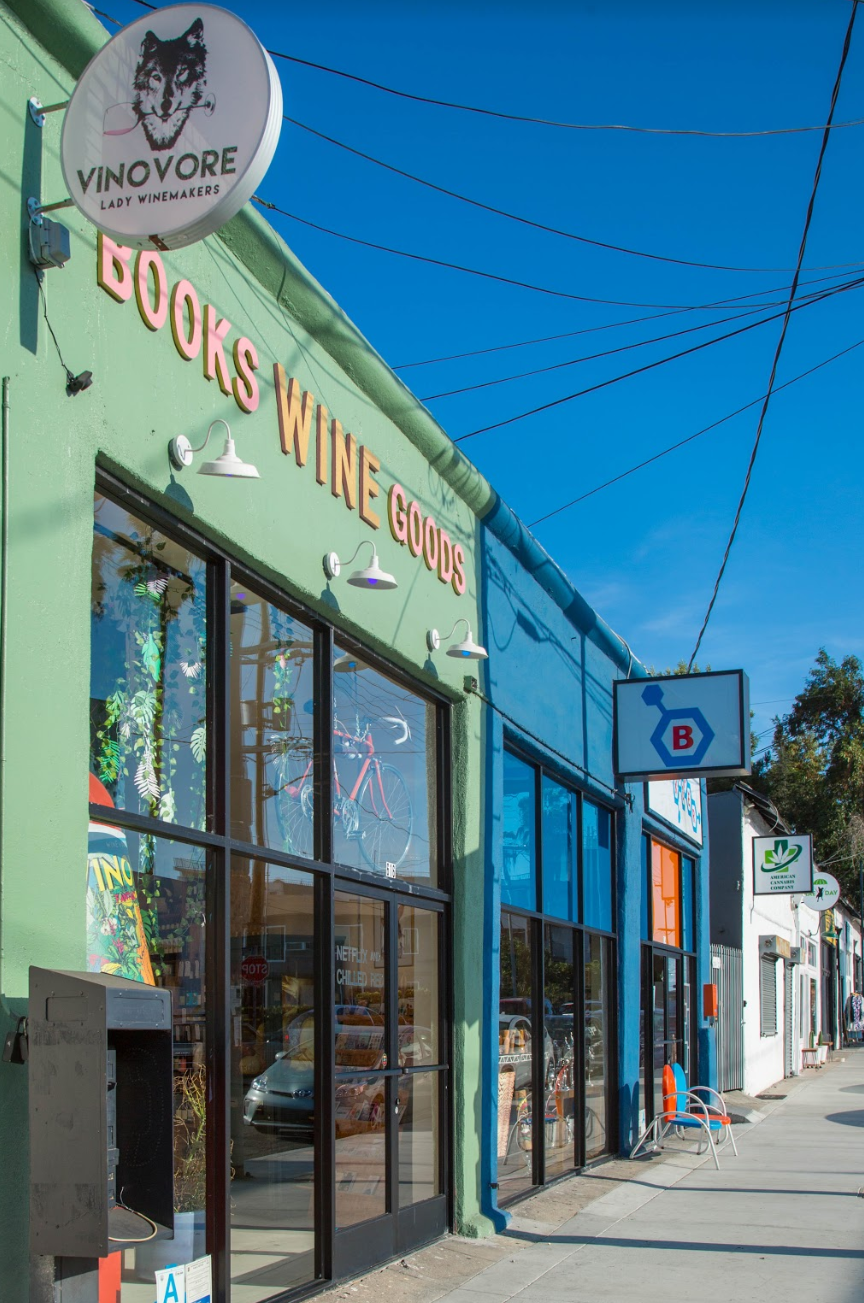 Maeday Outpost
Ethically sourced pet food and supply store all supporting rescue dogs and cats within MaeDay Rescue.
Hermitage Home Goods
Born out of their love of travel and the artisans they meet along the way, Hermitage Home Goods is a fair trade, curated home goods & antiques store located in Silver Lake, CA.